Our classroom is in full bloom this week as we are learning about growing a garden. All of the rain we have received lately here in Texas coupled with last week's topic on weather have been the perfect setup for our theme of changes and specifically plant growth and gardening. If you have yet to see our weather activities you can check them out here.
Garden Sensory
As is typical with each of themes, we perused Pinterest and found the perfect garden sensory bin for our classroom. Here is the original pin we found:
For our take on this sensory bin we filled our table with potting soil and added some white beans for the kids to plant as "seeds." We then added a set of plastic garden tools, a few fake flowers, and some cheap flower pots.
All of the supplies came from Dollar Tree except for the garden tools which I found at the dollar spot at Target.
We really wanted the kids to feel as if they had their own little garden in the classroom. They all loved working the soil and planting seeds. This sensory bin has been another big hit in our room and is definitely something we will use again in the future.
Planting a Garden
Another of our garden activities for the week allowed the kids to plant their own grass seed in a cup with their photo on it to give the illusion of growing hair. Here is the original activity that came from Pinterest:
To begin the activity each child received a clear plastic cup and added 2-4 inches of loose soil to it. All the kids loved to add their own dirt to their cup. For the special needs students, they did a few scoops hand-over-hand with a teacher and then finished on their own. The next step was to add a heaping spoonful of grass seed to the cup. Students then used their spoon to gently mix the grass seed in with the soil just a bit. Finally, each child spritzed their cup with water to allow the seed to have a little drink.
Once all the students finish we will add pictures of each child to the front of their cup, so that when their grass begins to grow it looks like hair growing out of their head.
Garden Read-Alouds
We are always looking for good books to go with our themes and wanted to share some with you. Here are a few of our favorite read-alouds about plants and gardening!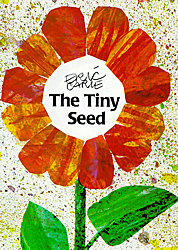 We hope you are inspired by some of our ideas this week. Please let us know if you try any of these activities or if you have any ideas for us to try!
-Heather & Angie